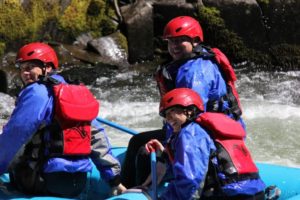 I hopped in my Jeep and headed to BZ Corner to join Mark Zoller, owner of Zoller's Outdoor Odysseys, and his happy crew of river guides for a day of Washington white water rafting on the White Salmon River. The weather was spectacular – not a cloud in the sky and remarkably warm for early spring.
Upon arrival Mark greeted me in his easy-going, affable way, wasting no time introducing me to the other adventure seekers as well as the constant parade of his happy family, who are all part of this fun-loving, three-generational operation. No sooner had we finished our paper work there was a much appreciated car key collection exercise (thanks!). Not a single detail left unattended. Then we were off to the back deck area to "gear-up". And when I say gear I mean high quality, warm, waterproof, CLEAN gear. Such a treat! A thorough and concise safety demonstration rounded out our pre-water activities.
We walked down the tree-lined, back stairs that lead straight to the river and we were off! I took a fair amount of ribbing from my new rafting buddies when I called second row as I didn't want to get drenched (I was warm but the water was not!). But, my shoulders are broad and I took it in stride. And just to make sure I was not "that girl" I made it perfectly clear that I wanted to hit every single rapid head-on! And Zack, our trusty guide really delivered!
We dropped over cliffs – which, in all actuality were probably just a few feet, paddled like crazy, spun in circles through the rapids with an amazing amount of finesse, screamed like school girls, laughed ourselves silly, splashed each other intentionally and perfected our paddle high-five water slap! Zack was spot on asking us if we were ok, giving solid, easy to follow instructions and making sure our time on the river was nothing short of spectacular. His knowledge of the river was paralleled by his concern that we all had a great time.
So, as you plan your trip to our Columbia Gorge Cabins let me tell you first hand – you gotta go whitewater rafting!